Sattal : Thrush Country
Sattal or Sat Tal (Hindi for "seven lakes") is an interconnected group of seven freshwater lakes situated in the Lower Himalayan Range near Bhimtal a town of the Nainital district in Uttarakhand. The lakes sits at an altitude of 1370 metres below lush orchards in the Mehragaon valley.
History:
Set amongst dense forests of oak and pine trees, Sattal is one of the few unspoiled and unpolluted freshwater biomes in India. These lakes are a paradise for migratory birds. This was a tea garden in the British raj . This falls under the Kumaon Range in Uttarakhand
About the area
Sataal has 7 lakes that are interconnected . They are
Panna Tal or Garud Tal
Nal-Damyanti Tal
Purna Tal
Sita Tal
Ram Tal
Laxman Tal
Sukha Tal or Khurdariya Tal
The birds throng these lakes and the forest surrounding these lakes. The forest are thick with Oak & Pine trees that make more than 200 species of birds to throng this place.
Sataal doesn't have any particular  designated sanctuary per se but there are very special areas to find the beautiful birds.
Sataal Studio :
This is an area opposite to the main lake of Sataal. A small stream of water connects two water body. This small stream is the happening place where most of the birds come to take a dip and drink water. The avid bird photographers have put up small perches and the birds use them to land before getting into the water thus giving the photographers enough opportunity to click these birds at close range.
Birds found here are Flycatchers, Warblers, Tit, Laughing thrush, Thrush, Kingfisher, Starling, Bulbul, Drongo etc
The area leading to studio has a little larger stream which attracts Woodpeckers and the Long tail Broadbill.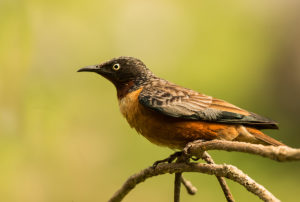 Maheshkhan :
This area is thick forest of Oak & Pine trees. The best place to shoot woodpeckers
Sataal is home to many species of woodpeckers like Greater Yellow Nape, Lesser Yellow Nape, Flame back, Brown Fronted, Grey headed, Himalayan , Fulvous, Rufous bellied, Rufous woodpecker
Ghorakhal :
Stables for horses that are used by tourists are in this area. The horse dung attracts lot of birds in this area. There is a beautiful trekking path through dense forest that is also home to a lot of beautiful birds. Birds found here are White tailed Nuthatch, Chestnut crownd laughing thrush, Partridges, Pied Thrush etc.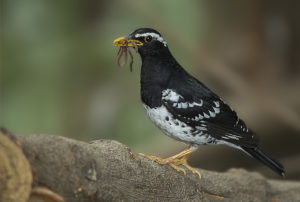 Chanfi River :
This river is great spots for the crested Kingfisher, Forktails & Brown dipper.
Private studios : A few resorts  have setup their own hides and attract the birds by feedibg them grains and fruits. These hides attract a lot of birds like Lineated Barbet, Great Barbet, Blue throated Barbet, Khaleej Pheasant, Black Francolin, Red billed blue magpie etc.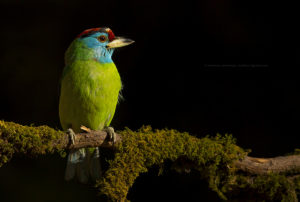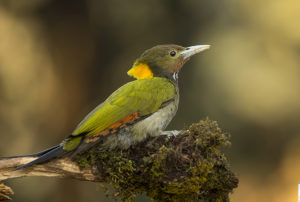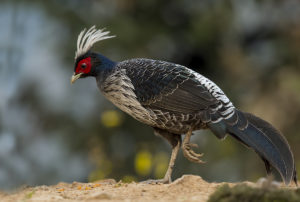 Shyamkheth :
This is a thick forest that attracts Woodpeckers , Barbets , Tree creeper and Tits.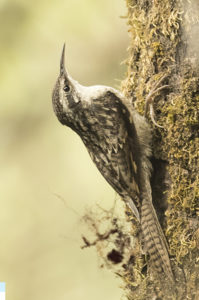 How to reach Sataal
Air: Nearest Airport is NewDelhi
Railway Station: Katgodham
Road: From Katgodham about 30 Km
Timing:
There is no designated time as there is no fenced sanctuary. Best time is to start early in summer by 5:00 am. The sunset is early in these areas.
Recommended Season:
Sataal has two seasons
Summer :   April – July : The flycatchers , Barbets , Broadbill, Woodpeckers ,tree creeper,  Nuthatch are active
Winter :   Oct – Feb : It is the time for Thrush, Laughing thrush, Finch, Warblers, Tits, Babblers, Orioles, Sibia etc.
So depending on target birds we need to plan the trip
Where to stay :
Many good hotels.  I recommend Incredible Birding Camp run by Rahul and Khushboo Sharma. Good service, Great Food and good birding guides. U can contact them on 09871545012, 09560731155
Guide:
A guide is VERY ESSENTIAL in this area. Only the guide knows where the birds are active and as there is no fenced area the whole district is active with bird hotspots. These spots keep changing and the guides are aware of this.
The area is traversed in motorised vehicle. Car rentals are available in Bhimtal and Nainital
Other Area Recommended:
Pangot is situated at a higher altitude than Sataal at about 6000 feet above sea level. It is about 30 Km from Sataal and can be combined with Sataal. Few birds that are special in Pangot are Koklass Pheasant, Cheer Pheasant, Finches.
One can have a clear view of Himalayas from points en-route to Pangot from Sattal
Tour Operators
Saravanan Janakarajan: +91 9840119078, ogaclicks@gmail.com